Thanks to
Tosh.0
for plugging the original
Nosetradamus
and thanks to all you viewers for watching our shorts and leaving such supportive feedback! We're glad we could make you laugh. Tell your friends.
As our way of saying thanks, I'm posting a SUPER SPECIAL bonus Thursday update! Figured I might as well update while the fire's still hot and we're still vaguely popular! Figured I might as well milk this Nosetradamus franchise until it's a dried up shriveled husk of what used to be a crappy 15 second joke! So without further ado: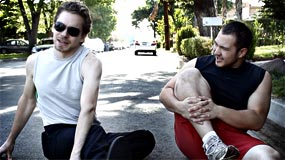 Nosetradamus III
Before you watch, you might want to make sure you've seen the
first
two
.
Thanks again everyone! You're the best.
-Geoff