Another update again this week, like a boss: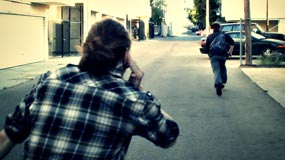 This is actually mostly test footage from an upcoming series written and directed by Zach Parris called BLEACH. But then in the midst of shooting, being the improv allstars that we are, we were like hey! This could totally be funny! And then the next day, we rested.
So, keep your eyes open for BLEACH. It's gonna be buddy-coptacular. And keep your eyes open for another brand new update next Tuesday. And like us on facebook.